Every now and then, there's reason to celebrate with the Council of Europe – for example, when anniversaries are coming up.
70 years Council of Europe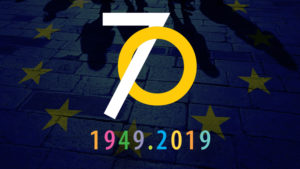 In order to mark its 70th anniversary in 2019, the Council of Europe created a special Anniversary Website dedicated to the history of the organisations as well as its achievements since its foundation in 1949.
T
he poster was designed by French artist Monsieur Z for this special occasion. It shows the Palais de l'Europe in Strassburg, home of the Council of Europe.
60 years Council of Europe
The Council of Europe was founded on May 5th 1949 in London, and celebrated its 60th anniversary in the year 2009.
Founding members were Belgium, Denmark, France, Ireland, Italy, Luxemburg, the Netherlands, Norway, Sweden and the United Kingdom.
During the first 60 years of its existence, the Council of Europe grew from 10 member states to 47. Today, it counts all countries belonging to the geographical centre of the continent (except Belarus) among its members, as well as some peripherically located ones.
60th anniversary of the European Convention on Human Rights
The European Convention on Human Rights (ECHR) is an unparalleled legal instrument, and as such generally considered the Council of Europe's most important accomplishment.
It was signed on 4. November 1950 in Rome and guarantees all people living in the Council of Europe member states fundamental rights and freedoms.
In 2010, this landmark in European human rights history celebrated its 60th anniversary.


60th anniversary of the European Flag
In 2015, the European Flag celebrates its 60th anniversary. The Council of Europe has marked the occasion by publishing a brochure on the history and symbolism of the flag. Designed for the Council of Europe in 1955, the flag has been the symbol of the organisation – and later on that of the European Union as well – ever since.


60th Anniversary of the European Flag – a symbol for the whole of Europe (PDF)

_
Photo © CoE